Description
Specifications
How this Workbook is organized
Look Inside Workbook
A Message from the Author
Customer Reviews
Workbook Ratings
Download:


Brochure
(PDF)

Poster (11x17)
(PDF)

Free Track Forms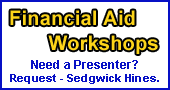 How to Order:


Online (Credit Card)

Mail (Check or Money Order)

Purchase Orders (For Schools)
Academic Discounts & Terms
(For Educational Institutions Only)
Payment Options
Shipping & Handling Info.
Frequently Asked Questions
Contact Us
Order Now
---
Interested in Aviation?
Visit...

Publisher
AvScholars Publishing, LLC.
47 N. Cedar Lane
Glenwood, IL 60425

SALE!
Receive $3 OFF*



The Scholarship Workbook
The Scholarship Workbook is a step-by-step guide designed to help students search and apply for scholarships. The Scholarship Workbook will help you successfully complete any scholarship application in a timely manner; and you will not feel overwhelmed or stressed-out in which most students feel during their scholarship search.



The Scholarship Workbook will help you:
Understand the basics of financial aid and scholarships
Document your qualifications for scholarships
Identify various sources of scholarships
Search for scholarships
Create winning scholarship applications
Track your scholarship search progress
Complete college applications
Write college admission and scholarship essays
Create resumes
And much more



Upon completion of The Scholarship Workbook, you will have created a valuable reference tool to use at all stages of your scholarship search and the application process. You will notice that every time you review your workbook, you will add new qualifications and possibly identify other scholarships you may have overlooked.

Please Note: The Scholarship Workbook is not a scholarship directory. It is a workbook designed to help you search and apply for scholarships.
Specifications:
Title:
The Scholarship Workbook
Product Dimensions:
8.5" X 11" Paperback, Perfect Binding
Pages:
112 pg.
Author:
Sedgwick D. Hines
Publisher:
AvScholars Publishing, LLC
Publication Date:
May 2005 (1st Edition)
ISBN:
0-9657384-4-2
Item No.
SWk
Price:
$16.95 USD
Category: Financial Aid/Reference
How this workbook is organized.
The Scholarship Workbook is divided into three chapters:
•
Chapter 1 – Financial Aid Basics
Chapter 1 will help you understand the basics of financial aid and how the financial aid process works.
•
Chapter 2 – The Workbook
Chapter 2 will help you identify and document information about yourself and your family to identify, search, and apply for scholarship.
•
Chapter 3– Scholarship & Financial Aid Sources
Chapter 3 will help you identify various sources (i.e. organizations, clubs, etc.) that offer scholarships and grants to students pursuing a higher education.
•
Chapter 4– Completing the Scholarship Application
Chapter 4will help you complete your scholarship application(s) in a timely fashion and keep your stress level to a minimum.
(View the entire Table of Contents PDF)
Customer Reviews
Write an online review and share your thoughts with other customers
"I believe Chapter 2 is the best part of the book. It is very thorough and guides a student through the entire process." -- Bob Milstead, Lead Secondary Counselor, Orange County Public Schools (Orlando,FL)

"Valuable to our parents - good model to help better understand this difficult and intimidating subject." -- Linda VanDerleest, Counselor, Geneseo H.S. (Geneseo, IL)

"Fabulous, well-written, easy-to-understand information on all aspects relevant to students searching for scholarships!" --Eileen Williams, Parent (Tampa, FL)

"This workbook helped my son search and apply for scholarships in our community in which we would have never looked. Very helpful book." -- Betty Smith, Parent (Chicago, IL)

"If you are a high school junior or senior, or the parent of one, you must get this book... It tells you step by step about how to search and apply for scholarships… and it helped with completing college applications. This book is worth the money I spent on it." -- Kim
"I am a guidance counselor at a large high school and I recommend this book to my students. What is so useful about it is the workbook chapter in which students will find very helpful. We are even thinking about getting this book for members of the junior and senior class."
-- School Counselor (Norfolk, VA)

"I had spent a lot of time using online scholarship search database sites and was really frustrated. I found myself completing various scholarship questionnaires and only a few results would appear. After completing the workbook, it helped streamline my search and I found other scholarships. The workbook is awesome!" --David McCluskey (Houston, TX)
Download Free Track Forms
These track forms were excerpted from The Scholarship Workbook. If you find these track forms useful, we are sure that you will enjoy the Workbook. Free Adobe Acrobat Reader is required to view and print these forms.

•
Scholarship Track Form
The Scholarship Track Form will help you keep track of your scholarship search, important dates, and to make sure that you send all the supporting documents requested by the sponsor along with your application. Use this form for each scholarship you're applying for and before mailing your application to the sponsoring organizations.
•
Recommendation Track Form
The Recommendation Track Form is designed to help you and the letter writer document and organize this process. Use this form for each individual that will write a recommendation letter for you.
•
Interview Track Form
The Interview Track Form will help you prepare for the scholarship interview and keep track of your interview date, location, and time. Use this form for each scholarship interview.
Shipping & Handling Information
All orders are shipped Priority Mail throughout the United States (P.O Boxes, Hawaii, Alaska and all U.S. territories) and Canada via the U.S. Postal Service.

The following shipping and handling charges apply:
• First Book - $4.95 (US Priority Mail)
• Add $2 for each additional book ordered
Payment Options
All orders must be prepaid (100%). AvScholars accepts Visa, Mastercard, American Express, Discover, personal or company checks, and money orders. If you have questions on ordering products, please refer to the Frequently Asked Questions.


No C.O.D. shipments permitted.


Academic Institutions
AvScholars accepts purchase orders from educational institutions and government agencies only. Institutions can fax their purchase order to (801) 516-0639. The online order form is for general customers only, in which IL Sales Tax are collected on shipments to Illinois addresses.
Order Now! - $16.95 USD

*Receive $3 OFF Total Order with Coupon Code: WB5


Order The Scholarship Workbook today for only $16.95, plus Shipping & Handling (no tax, except for Illinois residents). We accept credit credits, checks, money orders, and purchase orders (from approved government agencies and academic institutions). Quantity discounts available.

*Limit 1 Coupon Code per customer. Coupon code must be entered at time of ordering.