Description
Specifications
How this Workbook is organized
Look Inside Workbook
A Message from the Author
Customer Reviews
Workbook Ratings
Download:


Brochure
(PDF)

Poster (11x17)
(PDF)

Free Track Forms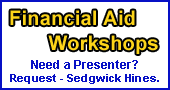 How to Order:


Online (Credit Card)

Mail (Check or Money Order)

Purchase Orders (For Schools)
Academic Discounts & Terms
(For Educational Institutions Only)
Payment Options
Frequently Asked Questions
Contact Us
Order Now
---
Interested in Aviation?
Visit...

Publisher
AvScholars Publishing, LLC.
47 N. Cedar Lane
Glenwood, IL 60425

Customer Review Form
Tell us what you think. Write a review of The Scholarship Workbook and share your opinions with others. Please be sure to focus your comments on the product. Read our review guidelines for more information. Required field (*)


Thank You for submitting your customer review.
---

General Review Writing Guidelines

Share your review with us and others!
We want to know what you think about The Scholarship Workbook. Your comments will be shared with others. The recommended review length is 75 to 300 words. We will display your Real Name, title, and location (if you have provided us with this information) with your review.

All submitted reviews are subject to the our Review Guidelines. Your reviews will be posted within five to seven business days. Submissions that do not follow our review guidelines will not be posted.

Note: A review is not an appropriate place to tell us The Scholarship Workbook has typos in it. If you'd like to tell us about a specific problem, please contact us.


What to include:
Your review should focus on the book's content and context.
The best reviews include not only whether you liked or disliked a book, but also why.
What not to include:
While we appreciate your time and comments, we respectfully request that you refrain from including the following in your review:
Commenting on other reviews visible on the page. Other reviews and their position on the page are subject to change without notice.
Profanity, obscenities, or spiteful remarks.
Single-word reviews. We want to know why you liked or disliked the item.
Phone numbers, mail addresses, URLs.