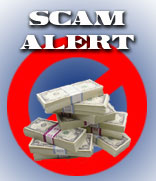 A few words of advice. When seeking financial aid, families should avoid private companies who charge a fee and make claims about guaranteeing you scholarships.
Unfortunately, there are companies and organizations taking advantage of families' economic hardships whenever it comes to financing their children's education. The information and services these companies provide can be found free of charge in resources like this web site, other financial aid related web sites, bookstore, public libraries, counselors' offices, or in any college's financial aid office.
Keep in mind:
• No one can promise that you will receive financial aid.
• No one knows you better than you.
• Why pay someone to do the work for you when, it's your education and career - take control.
If you completed the
Scholarship Workbook
, you should have created a powerful tool to assist you with all phases of your scholarship search without paying anyone.
The Federal Trade Commission (FTC) launched Project $cholar$cam to alert families and consumers about potential scholarship scams and how to recognize them. Here are the FTC's six basic warning signs and advice:
1.
"The scholarship is guaranteed or your money back."
No one can guarantee that they will get you a grant or a scholarship. Refund policies often have conditions or strings attached. Get refund policies in writing before you pay.
2.
"You can't get this information anywhere else."
Check with your school or library before you decide to pay someone to do the work for you. If you decide to use one of these services, you should check their reputation by contacting the Better Business Bureau or your State Attorney General's Office.
3.
"May I have your credit card or bank account number to hold this scholarship?"
Don't give out your credit card or bank account number over the phone without getting information in writing first. It may be a set-up for an unauthorized charge or withdrawal from your account.
4.
"We'll do all the work for you."
Do not be fooled. They will ask you numerous questions, and then search their scholarship database or another company's database. So they need your help. There's no way around it. You must apply for each scholarship or grant, yourself.
5.
The scholarship will cost some money.
Do not pay anyone who claims to be "holding" a scholarship or grant for you. Free money should not cost a thing.
6.
"You've been selected by a national foundation to receive a scholarship" or "You're a finalist" in a contest you never entered.
Before you send money to apply for a scholarship; check it out. Make sure the foundation or program is legitimate.

Fighting Fraudulent Activities
The Federal Trade Commission (FTC ) works for the consumer to prevent fraudulent, deceptive and unfair business practices in the marketplace. The FTC also provides information to help consumers spot, stop and avoid fraud. To file a complaint or to get free information on consumer issues, visit the
FTC web site
or call toll-free, 1-877-FTC-HELP (1-877-382-4357).