Sedgwick Hines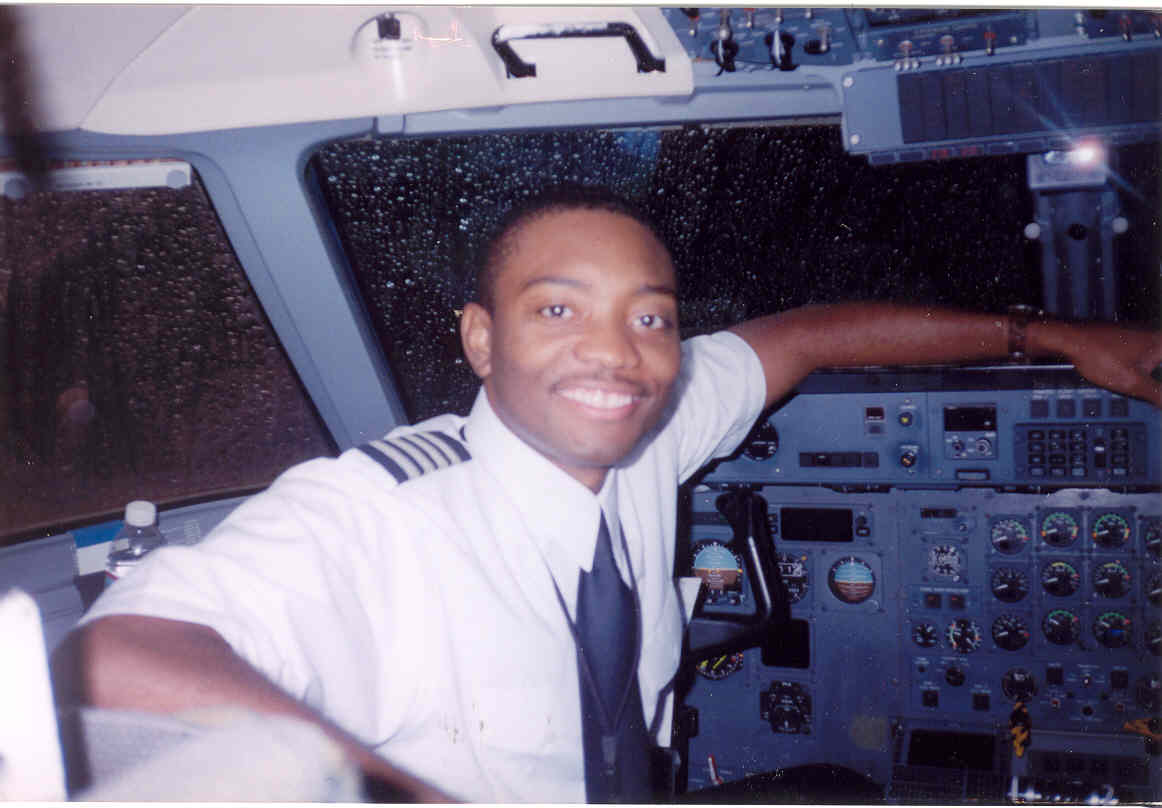 My interest in aviation began on my first commercial flight as a kid at the age of 7. After my first flight, I knew I wanted to be an airline pilot. I remember my first flight as if it was yesterday. Once I arrived home in Chicago, IL, I told my mother (Ms. Yolanda Hines) that I wanted to be a pilot, and she supported my dream ever since. My mother didn't know where to start or who to ask for guidance. A few years later, my mother's boss and family friend (Mr. and Mrs. Babijew) introduced my mother and I to their long-time friends (Mr. and Mrs. Mackie) whose husband was a recreational pilot and he also built model airplanes. After meeting Mr. Mackie, he informed me that he was building a kit airplane and that he could help guide me with my dream about becoming a pilot. Every other month, my mother and I would take a 3 hour train ride (from Chicago to Molena, IL) to have lunch with The Babijew and Mackie Families.
As an African-American youth from the inner city of Chicago, IL., I didn't know anyone in the city who flew airplanes nor did I know about any summer flight camps, aviation scholarships, or minority organizations that could have provided some support and guidance.
During my elementary and high school years, I received misguided advice from some educators and guidance counselors about how to become an airline pilot. From various teachers, I was told that my only chance of becoming an airline pilot was to join the U.S. Air Force, and then work for a major airline. During my junior year of high school, I recall my English teacher (Ms. Mitchell) telling me that I didn't have to join the military to be an airline pilot. She told me that she recently learned that Purdue University in W. Lafayette, IN had an Aviation and Flight Training Program. In my senior year of high school, I applied for admission to Purdue University and was later accepted for admission to the school and their aviation program.
During the last semester of my senior year, I met my first African –American Airline Pilot (Captain R. Dunlop) who works for a major airline in Chicago. Mr. Dunlop was a guest career speaker at my high school's career fair, in which I informed him that I was going to Purdue University for aviation and to become a pilot, and he soon became my mentor.
To help pay for college tuition and flight training costs, I received over $90,000 in scholarships, grants, and fee remissions from private foundations, local businesses and organizations, Purdue University, and a high profile judge in the City of Chicago. I still had to take out some loans to pay for some flight training costs. As I reflect on my past, I should have applied for more scholarships to help pay for all my education.
After graduating from college, I started to research scholarships again to help pay for my flight instructor certificates. In doing so, I found a lot of valuable information I wish I knew about when I was seven and throughout my years of elementary and high school, and college. During my research for scholarships, I learned about various aviation scholarships, minority aviation organizations and clubs, and summer flight camps. After reviewing the scholarship's eligibility requirements, I wasn't eligible to apply since I graduated from college. In order to pay for my flight instructor certificate and rating (CFI and CFII), I worked at a car factory a few months to save money.
After becoming a flight instructor, I built flight time as a volunteer instructor a Gray Airport in Gray, IN and as a part-time instructor at a Fix Based Operator in Lansing, IL. A few months later, I started working as a flight instructor at Southern Illinois University at Carbondale, Illinois.

After flight instructing for two years at SIU, I was hired by US Airway Express - Piedmont Airlines as a First Officer to fly a Dash 8. A few years later (2.5 years), I upgraded to Captain to build Pilot-in-Command (PIC) time, which is one of the airline minimum hiring requirments.
As I continued to pursue my career, I joined the Organization of Black Airline Pilots (OBAP) and the Tuskegee Airmen Inc., - "DooDoo" Chapter in Chicago, Illinois. Since joining those organizations, I competed and won a Boeing 737 Type Rating from OBAP and a Citation V Type Rating from The Tuskegee Airmen, Inc. The year 2001 was a great and sad year. I was offered employment with a major airline and after September 11, my class date was cancelled.

I'm still flying for a regional airline, in which I enjoy and hopefully I'll get hired by a major airline in the near future. As I reflect on my experiences, good and bad, I still love to fly and I'm still fulfilling a childhood dream. My mother's support, dedication, and encouragement helped propel me to where I'm at in my career – an airline pilot. I owe everything to my mother and special thanks to my family, Mr. and Mrs. Babijew, Mr. and Mrs. Mackie, Ms. Mitchell, and Captain R. Dunlop.

Have Fun Flying!

Sedgwick
Author/Publisher
AvScholars Publishing, LLC.