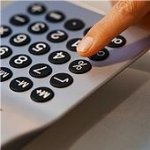 Your COA and EFC is used in the following equation to determine your financial need:


| | |
| --- | --- |
| | Cost of Attendance (COA) |
| - | Expected Family Contribution (EFC) |
| = | Financial Need |
After the financial aid administrator inputs the appropriate numbers into this equation, your total will determine whether or not you have demonstrated financial need.

Example:

John Doe will attend AvScholars Technical School in the Fall of 2003. The cost of attending AvScholars Technical School is $10,000, and John Doe's expected family contribution is $2,300.


| | |
| --- | --- |
| | $10,000 COA |
| - | $2,300 EFC |
| = | $7,700 Financial Need |


In this example, John Doe has needs $7,700 to help pay for his education. Therefore, John Doe has demonstrated financial need.If you have demonstrated financial need, the financial aid office of each school will try to meet this demonstrated need through a financial aid "package." This package will include various sources of Need-based and Non-Need Based Aid. Financial aid awarded to students based on financial need is called Need-based Aid. The purpose of need-based aid is to supplement the family's contribution, not to replace it.

Need-based aid is awarded in the forms of:
1. Need-based Federal, State, and Institutional Grants
2. Need-based Student Loans
3. Federal or State Work-Study

Note: If the financial aid administrator calculated and determined that you did not demonstrate financial need, you may be eligible for Non-Need based student loans and possible Merit-Based Aid.