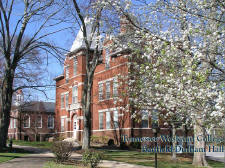 The process of preparing and applying for college can be an intimidating and confusing process. This is why it is very important to learn as much as you can about the basics of preparing and applying for college. The more you know about your options and the application process; you can make an informed decision about your educational and career goals.

Note: Throughout this document, the word "college" is used to refer to all postsecondary institutions--technical colleges, junior colleges, community colleges, other two-year colleges, and four-year colleges and universities.

Step 1:
College Basics
Step 1 will help you gain a general understanding about college basics. More>>


Step 2:
Preparing for College
Step 2 will help you prepare for college academically and outside the classroom. More>>


Step 3:
Choosing a College
Step 3 will help you research and choose a college that meets your individual needs and educational and career goals. More>>


Step 4:
College Costs and Financial Aid
Step 4 will help you understand college costs and how to pay for college. More>>


Step 5:
Applying for College
Step 5 will help you apply for college by completing the application process. More>>


Download various worksheets and track forms to help you stay organized.



Credit:

Most parts of the College Preparation channel were written by Sedgwick Hines. However, some parts were reprinted from "

Preparing Your Child For College: 2000 Edition

" which is published by

The U.S. Department of Education

, Office of the Under Secretary, Washington, D.C., 2000. Parts that are reprinted will be noted at the bottom of each article.

The U.S. Department of Education publishes a wealth of information for teachers, administrators, policymakers, researchers, parents, students, and others with a stake in education. You will find many of these publications at

http://www.ed.gov/about/pubs.jsp

.